---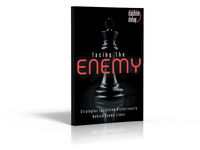 Strategies for Living Victoriously Behind Enemy Lines
RELEASED BY HARRISON HOUSE, in this book, Daphne Delay gives the reader insight into understanding righteousness, deception and authority. Once you have an understanding of these three things, you are like a soldier prepared for battle and equipped for the task. Then, you can go and shine as a light into the world as Jesus commanded us to do.
The game of chess is a lot like life. If you make smart moves then you can stay away from danger but any bad decision could be your last. As Christians, it is imperative to have a strategic understanding of Heaven's perspective of the Kingdom of Light versus the kingdom of darkness. Every move, every decision, every act of obedience has an outcome that determines our victory or defeat.
But sadly, the greatest oxymoron to ever exist is the phrase defeated Christian. It's heartbreaking to think most believers are living with masks on, hiding what's behind their facade. They overcome, but never seem to conquer. They're frustrated, but don't know why. They are saved from hell, but living in some form of it every day. This has to change.
In this book, FACING THE ENEMY: Strategies for Living Victoriously Behind Enemy Lines, you will:
Learn what it means to be "behind enemy lines"
Understand the importance of the trade Jesus made with us
Be taught how to identify the strategies of the enemy against you
Learn how to protect the soil of your heart
Learn to recognize and deal with the strongholds in your life
Discover the truth about your dominion and authority in Christ
Companion workbook also available! 
---
Email us for discount pricing for Bible Study groups
Leading a Bible Study group? Use this FREE Leaders Guide
Use code MMFREE in the discount box at checkout for free shipping