---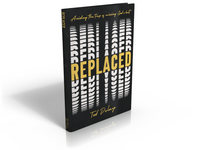 Avoiding the Trap of Missing God's Best
Every person's current situation was shaped by their past thoughts, responses, and decisions. When we follow God, we succeed. When we reject God's way of doing things, or His leading, God's plan will continue on-- with or without us. This is why it's important to not only know God's Word but embrace it.
The world is in a state of great compromise but God is not. And He is looking for people who will fulfill His will. The purpose of this book is to help each of us look at our present situation, whether positive or negative, in a different light. May you choose to live each day being conscious of your actions, knowing that a potential promotion or a possible replacement is at hand.
---
Tod Delay has been the Senior Pastor of Transformation Church in Seminole, Texas, since 1999. He is a graduate of Rhema Bible Training College in Broken Arrow, Oklahoma, and also holds a Masters in Theology from Life Christian University. Pastor Tod has purposed to always preach the uncompromised Word of God everywhere the Lord sends him. His enthusiasm and ability to make the Word of God understandable has helped countless families grow and mature in their walk with God.
Tod and his wife Daphne have three married children and four grandchildren.
For more information on Pastor Tod, visit thetc.com