---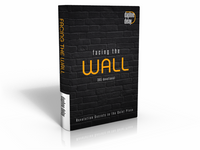 [365 Devotional] Revelation Secrets in the Quiet Place
---
 *Become a recurring partner and receive Facing the Wall as our gift! Click here.
RELEASED BY MIRROR MINISTRIES, the newest book by Daphne Delay is a daily devotional study guide (and includes February 29th for all the Leap Year babies).

Daphne says: "God's Word has been an anchor in my life. For over 30 years, I have sat quietly every morning with my Bible in hand, reading, praying, and learning. When storms of life pushed me around, I was held stable by this one constant— God's faithful Word. And it is my desire that you find the same."
When Hezekiah received unsettling news, he turned his face away from all distractions and positioned himself before the Lord. "Hezekiah turned his face to the wall, and prayed to God" (Isaiah 38:2). This one act changed the course of his life. The Bible says, "There's a private place reserved for the lovers of God, where they sit near him and receive the revelation-secrets of his promises" (Psalms 25:14 TPT). God is faithful to His Word. He loves to pour out revelation to those who will simply make time for it.
Each daily devotional will expound on God's Word with insight and revelation to help guide you. Position yourself in the private place, away from all distractions, and it will change the course of your life.
---
Use code MMFREE in the discount box at checkout for free shipping
Bookstores: Please Email us for discount pricing